My Dear Friends & Faithful Parishioners,
It has certainly been a long time coming. It brings me great joy to announce we are now in a new phase of the pandemic that has kept us from coming together. The Catholic Bishops of Ohio have announced a "soft opening" for public parish Masses beginning the week of May 25, with our weekday Masses followed by weekend liturgies on May 30 and May 31, observing the guidelines provided for the safety and wellbeing of everyone.
We understand the desire of our parishioners to return to our churches and the reception of the Holy Eucharist; however it is important for us to encourage those who are at risk, the elderly, those with pre-existing conditions, those who are ill, to refrain from returning to the public liturgies until you feel comfortable doing so. The dispensation from the obligation to attend Sunday Mass has been extended until further notice.
Our weekday Masses are as follows: St. Anthony; Tuesday and Wednesday @ 9:00 a.m. and St. Mary; Thursday and Friday @ 9:00 a.m. Our weekend Mass thru June 28th remains the same: St. Anthony, 4:00 p.m. Saturday & 8:00 a.m. Sunday: St. Mary, 6:00 p.m. Saturday & 10:30 a.m. Sunday.
With the assistance of the Liturgy Teams we have put together the following guidelines for a safe return.
Returning to our parishes will certainly take on a different look and attendance will be limited to 50% capacity with proper social distancing. Simply stated, other than family/household members who live together, parishioners will be seated six feet apart in all directions.
All parishioners are strongly encouraged to wear a mask.
To help us control the flow of traffic, we are asking that you enter through the center front door or the parking lot door. Someone will assist you once inside.
The distribution of Holy Communion will be organized to honor the six foot distancing and distribution of the precious Blood will be suspended until further notice. You are respectfully and strongly encouraged to receive Holy Communion "on the hand" to avoid physical contact.(no gloves). Please be advised that if you have a feeling of apprehensiveness or anxiety, you may refrain from receiving Holy Communion if you so desire and make a spiritual communion.
You will notice a reduction of liturgical ministers; lectors/readers, Eucharistic Ministers, altar servers, ushers, choir members, etc., in order to utilize only those deemed necessary to insure the liturgy is respectfully offered.
The sign of peace also continues to be suspended at this time and the faithful are being reminded that there is to be no physical contact (holding hands) during the Lord's Prayer.
Live streaming will continue at 8:00 a.m. at St. Anthony's and 10:30 a.m. at St. Mary's until such time we are assured our parishioners are comfortable returning to public gatherings.
Please rest comfortably knowing every effort will be taken to insure the church and all areas occupied during the Mass will be completely disinfected and sanitized before and after Mass, including door handles, pews, chairs, ambos, etc. We are looking for volunteers to assist in the cleaning process after the 6:00 pm mass and 10:30 am mass.
We ask you to understand and be patient as we enter into this new phase for this will be a "trial and error" and some changes may be necessary to accommodate the flow of the liturgy and the safety of our parishioners.
As we join together in this new journey I want to thank you for your continued prayers and financial support through this difficult time. Please feel free to contact either parish office with any questions or concerns you may have. I ask for your patience, cooperation and most importantly your prayers. We are all in this together. We are many parts and we are all one body.
Sincerely Yours in Christ,
Fr. Francis Mariadas, SAC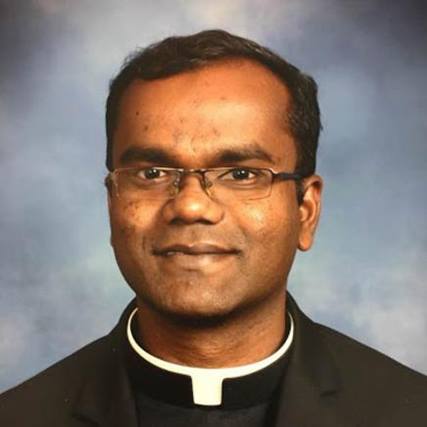 Father Francis Mariadas
Under the patronage of Mary, the Mother of the Redeemer, the St. Mary Parish family is dedicated to enable people of all ages to receive & extend the spiritual, social, educational and physical blessings of the Father's presence among us in Jesus under the Holy Spirit's guidance.